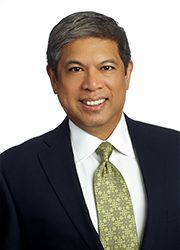 Certified Mortgage Advisor
I absolutely love what I do for a living! I am starting my 19th year as a Mortgage Loan Officer and have helped hundreds of families achieve their dream of home ownership. I love the excitement when my clients get an accepted offer on their home purchase. It's the biggest high – I can hear it in their voices, and also the Realtor's voice. I get the clients on the phone and they're so excited, "Oh, my gosh, it's going to happen! We're getting this home!" It's amazing to be part of it. I get to bring their dream to reality by managing and negotiating all the transactional details, including contract review and other important steps, during the loan approval process from start to finish. Usually, there are challenges and obstacles to overcome before Final Approval and closing. That's when my expertise and experience come in. When the agent gives the clients the keys to their new home, I know that I was a big part of that success to make an amazing impact on a family's life. I smile and get goosebumps just thinking about it. That's truly why I continue to do this after so many years. I'm passionately committed to this industry and to families that want to own a home. It's a part of me-a piece of my soul. I love it!
I'm constantly educating myself so that I can advise my clients properly, and they can make the best decisions for themselves. I attended the University of Oregon (I loved being a member of the marching band drum line!), the University of Hawaii and have taken classes through UCLA and Harvard. Pepperdine University in Malibu, CA is where I earned my Business Degree and most recently, I obtained a Law Degree from the University of Southern California Gould School of Law. And I regularly attend professional trainings and seminars.
My favorite hobbies include playing drumset, improving my health through diet and exercise, playing online chess, gardening, traveling with my wife and family, and meditating. And I've recently gotten back into tennis. My wife and I participate in various charity, fundraising, and volunteer events throughout the year, including Sunshine Division, New Avenues for Youth, KGW Toy Drive, and the Oregon Food Bank.
My clients consider me to be a man of honor and integrity, and I take your trust very seriously. I promise to keep my standards of professionalism high, and to always treat you with courtesy and respect.
I have been blessed with outstanding clients, many of whom have referred me to their friends and families. And it is my distinct honor and privilege to make a difference in people's lives both professionally and personally. You can always count on me for a successful outcome.
I'm here to answer any questions you might have about our products and services. Feel free to contact me using any of the following methods: